J. Armz - How To Be An MC Instrumentals Vol. 32
Submitted by mfizzel on Sat, 02/11/2006 - 5:51pm.
Mixtape Directory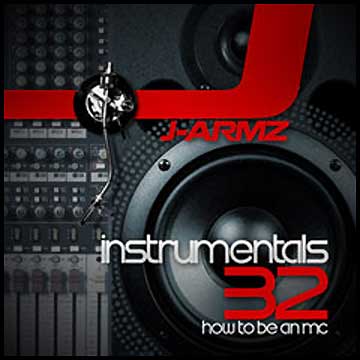 J. Armz gives you another round of the heaviest beats on the market,
including instrumentals from up-and-coming producers & big-timers alike.
This mixtape brings you more than 30 new hip-hop instrumentals from
Heatmakerz, Toomp, Scarface, Amadeus, RZA, Swizz Beats, Clinton
Sparks, Supa Mario, J.A., Play-N-Skillz, ALchemist, Statik Selektah...
1 - Gotta Love It (produced by I.N.F.O.) – Cam'ron
2 - Streets On Lock (produced by Soundsmith Productions) – Bleu Davinci feat. Fabolous & Young Jeezy
3 - What U know (produced by Toomp) – T.I.
4 - The Mobb (produced by The Heatmakerz) – Lil' Wayne
5 - Rumble Young Man Rumble (produced by Justice League) – Juelz Santana
6 - Hustlin' (produced by The Runners) – Rick Ross
7 - Real Trap Nigga (produced by J.A.) – Purple City
8 - Trap Star (produced by Mr. ColliPark) – Young Jeezy
9 - You Can't Ride Like Me (produced by Emile) – Papoose feat. Funkmaster Flex
10 - Hold Ya Head (produced by Clinton Sparks) – Notorious B.I.G
11 - Never Snitch (produced by Scarface and Tone Capone) – Scarface feat. The Game
12 - My Diary (produced by Amadeus) – Jim Jones
13 - 718 (produced by The Alchemist) – Cormega feat. M.O.P
14 - D.B.L.O.C.K (produced by Supa Mario & Vinny Idol) – Sheek Louch feat. J-Hood, Styles P, & Jadakiss
15 - Talkin' Sideways (produced by Ill Will) – Mobb Deep
16 - Throwed (produced by Mr. Lee) – Bun B feat. Jay Z & Young Jeezy
17 - Smoke In The Air (produced by Mike Loe) – C.L. Smooth
18 - Wartime (produced by D.R. Period) – M.O.P feat. 50 Cent
19 - Gorilla Music (produced by Greese Monkeys) – E.S.G.
20 - State of Grace Remix (produced by The Rza) – Raekwon feat. Busta Rhymes
21 - You've Been Slain (produced by Moss) – Obie Trice
22 - Shottas (produced by The Heatmakerz) – Juelz Santana feat. Cam'ron & Sizzla
23 - Who Dat (produced by Statik Selektah) – M.O.P feat. Young Buck
24 - Cassidy (produced by Swizz Beatz) – Cassidy
25 - Get Your Grind On (produced by Sean C) – Notorious B.I.G
26 - Void In My Life (produced by Twinz) – Chamillionaire
27 - It's Nothing (produced by Dame Grease) – Cam'ron
28 - Hustler Musik (produced by Tmix & Batman) – Lil' Wayne
29 - Candyland (produced by Dutchbeetz) – Hell Rell feat. Un Kasa
30 - Grillz (produced by Jermaine Dupri) – Nelly feat. Paul Wall, Ali & Gipp
31 - The Infamous (produced by The Alchemist) – Mobb Deep
32 - Ridin' (produced by Play-N-Skillz) – Chamillionaire feat. Krayzie Bone
33 - Gone (produced by Streetrunner) – Juelz Santana
How To DOWNLOAD