DJ Rhude - Hip Hop Soul 13
Submitted by jada1212 on Thu, 11/29/2007 - 7:01pm.
R&B | Mixtape Torrents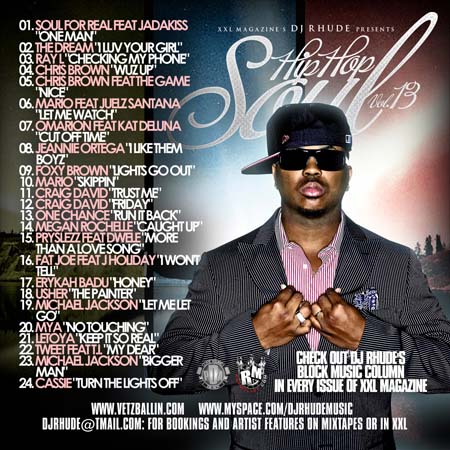 01. SOUL FOR REAL FEAT JADAKISS "ONE MAN"
02. THE DREAM "I LUV YOUR GIRL"
03. RAY L "CHECKING MY PHONE"
04. CHRIS BROWN "WUZ UP"
05. CHRIS BROWN FEAT THE GAME "NICE"
06. MARIO FEAT JUELZ SANTANA "LET ME WATCH"
07. OMARION FEAT KAT DELUNA "CUT OFF TIME"
08. JEANNIE ORTEGA "I LIKE THEM BOYZ"
09. FOXY BROWN "LIGHTS GO OUT"
10. MARIO "SKIPPIN"
11. CRAIG DAVID "TRUST ME"
12. CRAIG DAVID "FRIDAY"
13. ONE CHANCE "RUN IT BACK"
14. MEGAN ROCHELLE "CAUGHT UP"
15. PRYSLEZZ FEAT DWELE "MORE THAN A LOVE SONG"
16. FAT JOE FEAT J HOLIDAY "I WON'T TELL"
17. ERYKAH BADU "HONEY"
18. USHER "THE PAINTER"
19. MICHAEL JACKSON "LET ME LET GO"
20. MYA "NO TOUCHING"
21. LETOYA "KEEP IT SO REAL"
22. TWEET FEAT T.I. "MY DEAR"
23. MICHAEL JACKSON "BIGGER MAN"
24. CASSIE "TURN THE LIGHTS OFF"
How To DOWNLOAD