Double R Entertainment - The Gang Is All Here: The Best Of Dipset Eurogang
Submitted by mfizzel on Sat, 03/11/2006 - 11:31am.
Mixtape Directory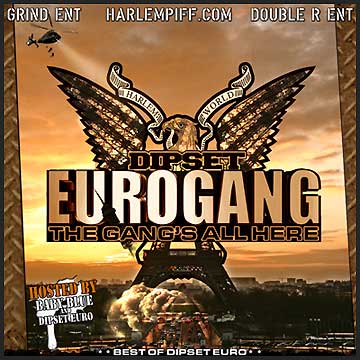 Double R Entertainment takes care of some business overseas and has
Baby Blue, S.A.S., & Haze host this major mix, which features the best
joints, not to mention some exclusive tracks from the Dipset Eurogang.
This mix features some of the best Emcees in the UK with Haze, Baby
Blue, Bigz, Villian, Mega & Mayhem (S.A.S.) + production from Rephan.

1 - Baby Blue - Intro
2 - Eurogang - Eurogang
3 - Baby Blue - Blow My Mind
4 - Haze - Once Upon A Time In London
5 - S.A.S. - Streets All Salute
6 - S.A.S. feat. Haze - E.U.R.O.
7 - S.A.S. - Dipset All Day
8 - S.A.S. - Theme Muzik
9 - S.A.S. - DJ Battle & DJ Whoo Kid Freestyle
10 - Juelz Santana feat. S.A.S. - Gangsta Shit (remix)
11 - S.A.S. - Rocks N Roll [Produced by Dutchbeetz]
12 - S.A.S. - Hot 97 Freestyle (2001)
13 - S.A.S. feat. October Rouge - French Connection UK
14 - Juelz Santana feat. S.A.S. - Dipset Anthem (remix)
15 - Haze feat. Baby Blue - Hazy Days
16 - Teedra Moses feat. Mega - Backstroke
17 - S.A.S. - Get Away (Freestyle)
18 - Baby Blue feat. S.A.S., Bigz, Sway, Pyrelli & Sincere - Still Don't Care (remix)
19 - Coinz & S.A.S. - Doing Fine
20 - Haze - It's That Life
21 - Mr. Pork Dudley & Rephan - Singing This Song
22 - S.A.S. - Story Of Us
23 - S.A.S., Baby Blue, Bigz, Ill Millz & Young Pro - Missing You
24 - Baby Blue - Outro
How To DOWNLOAD