DJ Scream - Heavy In The Streets #7
Submitted by mfizzel on Sat, 09/02/2006 - 1:39pm.
Dirty South | DJ Scream | Mixtape Torrents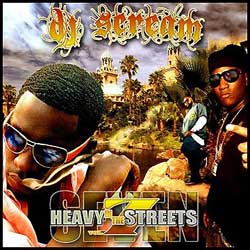 Heavy on the block and heavy in the streets, DJ Scream gets his weight
up and puts down another hardcore mix from the baddeest acts in the Dirty
South. With Heavy In The Streets #7 you get tapped to what's really
going...dowwwwn.
With another dose of the Southern street music, this mixtape features
all-new tracks, freestyles, unreleased songs and more.
Featuring joints from Plies, Lil' Wayne & Juelz Santana, Shawty Lo, Yung
Joc, Young Jeezy, Lil' Boosie, Young Dro & T.I., Slick Pulla, Young Buck,
Spark Dawg, Gucci Man, Rick Ross and more.

1 - Plies Intro
2 - Plies - 100% Real Nigga
3 - Scream & Al Gator - We Walk Alone
4 - Scream feat. Yung Texxas, Spark Dawg, P.Dukes & Juice of the Replacementz - Heavy In The Streets
5 - Shawty Lo feat. Gucci Mane & Stunman - Got Em For That Lo
6 - Yung Joc & Sunny V - F U Pay Me
7 - Cadillac Don & J Money - Peanut Butter & Jelly
8 - Menace feat. Fabo - Don't Blow My High
9 - Young Jeezy - I Do This
10 - Scream P.S.A.
11 - Rick Ross - Push It
12 - Lil' Wayne & Julez Santana - Bonafide Hustla
13 - Big Kuntry & Khao - 1st & 15th
14 - Gucci Mane - Freaky Girl
15 - Pimp C Freestyle
16 - Willie Joe & Da Great Yola - Get Em Got Em
17 - Slick Pulla - Birds Fly
18 - Outkast feat. Lil Wayne & Snoop Dogg - Hollywood Divorce
19 - Lil Wayne & Juelz Santana - Birds Flyin High
20 - Young Dro & T.I. - Girl Gotta Girlfriend
21 - Young Buck feat. Jazze Pha - I Know You Want Me
22 - Trilltown Mafia feat. Lloyd - Bien Venidos
23 - Lil Boosie & Yung Joc - Zoom
24 - Squad Up - We Gettin
25 - Jody Breeze - Solo
How To DOWNLOAD