DJ Muggs - Take Aim
Submitted by mfizzel on Sat, 02/18/2006 - 8:48am.
Mixtape Directory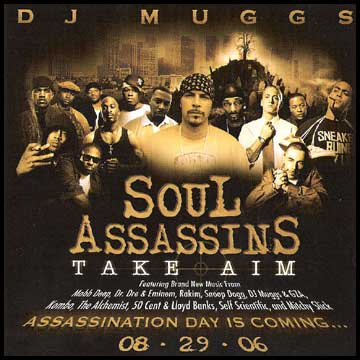 DJ Muggs, the legendary L.A. producer and DJ for Cypress Hill and
the creator of Mash-Up Radio on Sirius, drops this mixtape in the eager
anticipation of Assassination Day (coming later this year). Following up
his acclaimed GZA vs. Muggs indie release, this CD features exclusive
Mobb Deep, Dr Dre, GZA/RZA, Rakim, Snoop, B-Real, Bun B, Raekwon.

1 - Intro
2 - We All Die Some Day - Tony Yayo, Obie Trice, 50 Cent, Lloyd Banks
3 - New York City - Rakim
4 - Mobbed Out - GOD III
5 - GZA Interview
6 - Destruction of A Guard
7 - Champions - Mobb Deep
8 - King Kong - Self Scientific feat. Bun B
9 - Life of an Outlaw - Dr. Dre
10 - Hits For Hire - Snoop Dogg, B-Real, Chace Infinite
11 - Unstoppable Threats - Muggs vs. GZA feat. Masta Killa, Prodigal Sunn
12 - Live and Breath - Self Scientific
13 - Triggerside - Mitchy Slick, Phil Da Agony, Chace Infinite
14 - Advance Pawns - Muggs vs. GZA feat. The RZA, Raekwon, Sen Dogg
15 - What Life Would Be - Rakim
16 - GZA Interview 2
17 - Unprotected Pieces - Muggs vs. GZA
18 - Balance - Self Scientific feat. Kombo
19 - Freestyle - Evidence of Dilated Peoples
20 - State of Grace - Raekwon
21 - Beyond LA - Cypress Hill
22 - Federal - Mitchy Slick
23 - Outro
How To DOWNLOAD