DJ L - Deep Thoughts: The Real Best of Mobb Deep
Submitted by mfizzel on Fri, 01/27/2006 - 9:03pm.
Mixtape Directory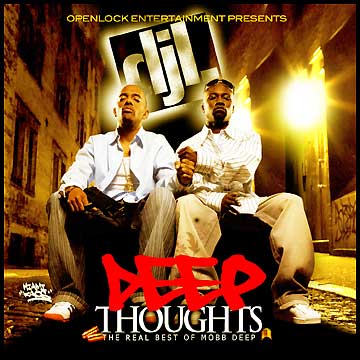 DJ L gathers all the best joints from Prodigy and Havoc and he is
getting everyone ready for their upcoming album called Blood Money.
This mix is The Real Best Of Mobb Deep and features 46 tracks with
cameos from 50 Cent, Nate Dogg, Cormega, Big Noyd, Nature, Nas,
Tragedy Khadafi, Raekwon, Lil' Kim, Capone, Noreaga, 8Ball & MJG.

1 - Have A Party feat. 50 Cent, Nate Dogg
2 - The Infamous feat. 50 Cent
3 - Get Shot The Fuck Up feat. Big Noyd (Full Song/Classic)
4 - Dump feat. Nate Dogg
5 - Real Niggaz
6 - Shorty Wop
7 - Win Or Lose
8 - Get Away
9 - Pray For Me feat. Lil' Mo
10 - Clap
11 - Crawlin' (Dissin' Jay-Z)
12 - What's Ya Poison feat. Cormega
13 - Adrenaline
14 - I'm Goin' Out feat. Lil' Cease
15 - The Realest feat. Kool G Rap
16 - Can't Fuck With Niggaz I Fuck With feat. Raekwon
17 - Nightime Vultures feat. Raekwon
18 - Drop A Gem On 'Em
19 - Still Shinin'
20 - Hell On Earth
21 - Rare Species
22 - Survival Of The Fittest
23 - Give Up The Goods feat. Big Noyd
24 - One Million Strong feat. Ice Cube, Smooth B, Chuck D, The Rza, Killah Priest
25 - Da Bridge 2001 feat. MC Shan, Nature, Tragedy, Capone, Nas (Full Song/Classic)
26 - We Live This feat. Big Noyd
27 - Self Conscience feat. Nas (Full Song/Classic)
28 - A Ho Is A Ho
29 - Handcuffs
30 - God part 2
31 - God part 3
32 - Quiet Storm
33 - Quiet Storm (remix) feat. Lil' Kim
34 - It's Mine feat. Nas (Full Song/Classic)
35 - Live Nigga Rap feat. Nas
36 - Give It Up Fast feat. Nas
37 - Eye For An Eye feat. Nas, Raekwon
38 - Let's Go feat. Raekwon
39 - Fall Back feat. Tragedy Khadafi
40 - Infamous Minded feat. Big Noyd
41 - What U Rep feat. Noreaga
42 - Wanna Be Thugs
43 - Talkin' Sidewayz
44 - It's A Craze
45 - Where Ya From feat. 8Ball & MJG
46 - Where Ya Heart At
How To DOWNLOAD