DJ Keyz & Splash - 100th Mixtape: Blends Edition
Submitted by mfizzel on Wed, 02/08/2006 - 7:04am.
Mixtape Directory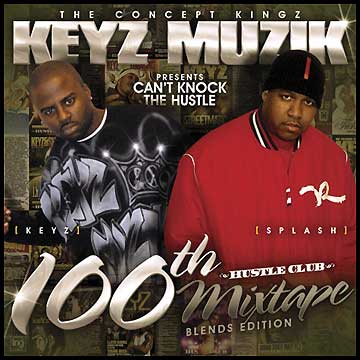 DJ Keyz reveals himself (and the mighty Splash) on this very special
blends mixtape. The 100th mixtape in Keyz' collection is definitely one
for the collector's, as The Concept King breaks down more than 20 new
R&B/hip-hop/old school blends. His first blends CD is on point, with a
gang of remixes from Mary J Blige, Paul Wall, Michael Jackson & more.

1 - Intro
2 - Yo - Excuse Me Miss - Chris Brown b/w I Got Five On It - Luniz (blend)
3 - Be Without You - Mary J. Blige b/w Knuck If You Buck - Crime Mobb (blend)
4 - Still On It - Ashanti Feat. Paul Wall & Method Man b/w Blood Money - CNN (blend)
5 - I Just Want It To Be Over - Keyshia Cole b/w Bonita Applebum - A Tribe Called Quest (blend)
6 - Be Happy - Mary J. Blige & 2 Hype - Entouch b/w Bling Blaow - Red Cafe & Fabolous (blend)
7 - I Just Wanna Please You - Mona Lisa b/w Run It - Chris Brown (blend)
8 - Stay With Me - Ne-Yo b/w Check The Rhyme - A Tribe Called Quest (blend)
9 - I Like It - Jomanda b/w B - Boy Stance - Cassidy (blend)
10 - Something In The Way - Stephanie Mills & I Want A Love Like That - Tony Thompson b/w Still On It - Ashanti (blend)
11 - We Belong Together - Mariah Carey b/w Lean Wit It - Dem Franchise Boys (blend)
12 - Saturday Love - Cherelle & Alexander O'Neal b/w Hollaback Girl - Gwen Stefani (blend)
13 - Hold You Tight - Tara Kemp & Crazy For You - Sybil b/w Drop It Like It's Hot - Snoop (blend)
14 - Head Over Heels - Allure & Nas b/w Rock A Bye - Black Buddafly (blend)
15 - Okay - Nivea b/w Come Get It - Yummi (blend)
16 - 7 Days 7 Nights - Sue Ann Caroll & If You Feel The Need - Shomari b/w Touch It - Busta Rhymes (blend)
17 - Look Who's Loving Me - The Escoffrey's b/w This Is How We Do - Game & 50 Cent (blend)
18 - Remember The Time - Michael Jackson b/w Fire - Joe Budden (blend)
19 - Sitting On Top Of The World - Brandy & Mase b/w There It Go - Whistle - Juelz Santana (blend)
20 - Superficial Love - Bas Noir b/w Hate It Or Love It - Game & 50 Cent (blend)
21 - So Sick - Ne-Yo b/w Use Me - Steady B (blend)
22 - We Can Make It Alright - Gap Band b/w Baby Girl - Jim Jones (blend)
23 - Love You Down - Jade b/w Wait - The Whisper Song - Ying Yang Twins (blend)
How To DOWNLOAD