DJ Clue & Gravy - Who Shot Mayor Goonberg? (Politics As Usual)
Submitted by mfizzel on Fri, 05/26/2006 - 2:29am.
East Coast | DJ Clue | Mixtape Torrents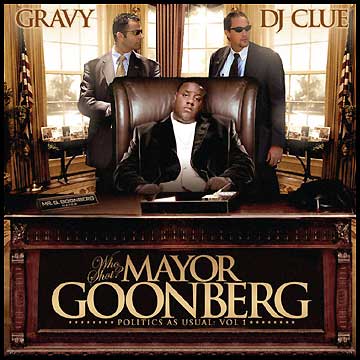 DJ Clue? bounces over to Brooklyn to get down with Mayor Goonberg
Gravy. Politickin' with the legendary mixtape forefather, the BK Warner
Bros. mixtape veteran gives you another one for the collection with this
latest installment in the mixtape campaign before Gravy hits you with
the official album. With Gravy's music taken out of rotation at NYC's
premier radio station after a shooting incident, catch the kid on this CD!

1 - DJ Clue Intro
2 - Freestyle
3 - Ride Out
4 - Slap Boxing feat. Styles P.
5 - Soldier
6 - The Best In The City feat. Ransom
7 - Back In Business
8 - 40/40
9 - Brooklyn Shit 2006
10 - Bedstuy Anthem
11 - Drugs Drugs Drugs
12 - Big Apple feat. Notorious B.I.G. & Busta Rhymes
13 - Big Cannons feat. J-Hood
14 - Get Up (Single)
15 - Going Down (remix)
16 - Everyday I'm Hustlin' (remix)
17 - Why You Wanna feat. Lil' Flip
18 - Freestyle
19 - My Life
20 - Mary J. Blige - Enough Cryin' remix feat. Gravy
21 - Donell Jones - Start Talkin' (remix) feat. Gravy
How To DOWNLOAD