DJ Arson - Hitlist Part 14
Submitted by method187 on Wed, 09/27/2006 - 6:54am.
General | DJ Arson | Mixtape Torrents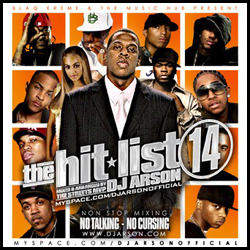 Ring the alarm! DJ Arson is back to burn the
place down with one of the most popular
party/hits mixtapes around . Mixed from front
to back with only the hottest music in R&B and
hip-hop, this joint is for everybody.
The kids and parents are feeling it because it
has NO SWEARING/CURSING (NO TALKING
either) and everybody else is feeling it because
it gets the party started and flashes some of
Arson's patented remixing skills.
This mixtape features hits & remixes mixed
non-stop from Beyonce, Janet, Webstar &
Young B, Jay-Z, Banks & 50, Joc & Weezy,
Ne-Yo, Jim Jones, Young Dro & T.I., Pharrell,
Nicole (from PCD) and many more.

1 - Hit List Intro
2 - Shoulder Lean - Young Dro feat. T.I.
3 - This Is Why I'm Hot - Mims
4 - Chain Hang Low - Jibbs
5 - Call On Me - Janet Jackson feat. Nelly
6 - Upgrade You - Beyonce feat. Jay-Z
7 - Ring The Alarm - Beyonce
8 - One Blood - Game feat. Junior Reid
9 - Money Maker - Ludacris feat. Pharrell
10 - Cake (Hit List remix) - Lloyd Banks feat. 50 Cent
11 - I Know You See It (Hit List remix) - Young Joc feat. Lil' Wayne
12 - We Fly High (Ballin') - Jim Jones
13 - Ballin' (remix) - Remo The Rapstar
14 - Da Franklins - Party Skit
15 - Hands Up (Hit List remix) - Lloyd Banks feat. 50 Cent
16 - Chicken Noodle Soup - Dj Webstar & Young B.
17 - My Favorite One - Styles P. feat. Rashaad
18 - Sexy Love (Hit List remix) - Neyo
19 - Come To Me - Diddy feat. Nicole Scherzinger
20 - You & Dat - E-40 feat. T-Pain
21 - Entourage (remix) - Omarion feat. Papoose
22 - Ghetto Superstar - 50 Cent
23 - De Ja Vu (Hit List remix) - Beyonce feat. Jay-Z
24 - De Ja Vu (Hit List remix #2) - Jay-Z Verse
25 - Number One - Pharrell feat. Kanye West
26 - Off Da Chain - Remo The Rapstar
How To DOWNLOAD