DJ 5150 Presents Calliope Var - Superish
Submitted by mfizzel on Wed, 02/03/2010 - 10:11am.
Dirty South | Mixtape Torrents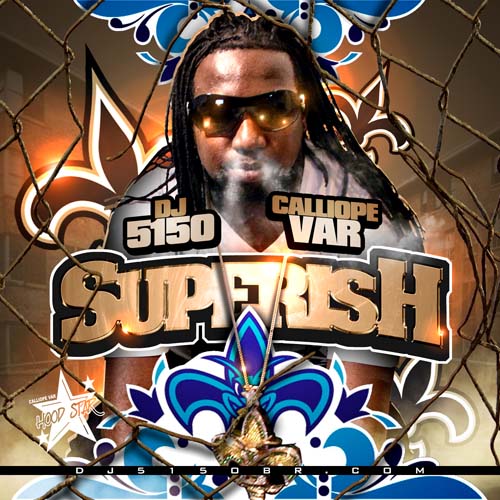 DJ 5150 hooks up with Calliope Var, one of the hottest artists to come out of
the Calliope Projects in years.
Representing uptown New Orlenas Calliope Var gives you 22 tracks of that real
life sh*t, with features from Currensy, C-Murder, Mr. Marcelo, Kayotic and more
N.O. natives!
1. Intro
2. Superish Ft.Mr. Marcelo, Ceto
3. Imma Gangsta
4. Var Speaks
5. Star In Da Flesh
6. Like Yea Ft. Mr. Marcelo
7. I'm On It,On It Ft. Mr. Marcelo
8. U Can Catch Me Ft.Mr.Marcelo And Curren$Y
9. Dreamin
10. Mastered Art Ft. KI's
11. Uptown Gangstaz Ft. Ld Herb
12. Home Of Dope Remix Ft. C-Murder, Kayotic, Popeye
13. Gunz Up Ft Mr. Marcelo
14. Movie Ft Mr. Marcelo, Kayotic
15. Gun On My Waist Ft. Bunz, Jerkaman
16. Never Change
17. Tommorow Ft.B Strezzy
18. Take Shots Ft. Curren$Y
19. Freshly Dressed Ft. Curren$Y
20. In My Projects Ft. Mr. Marcelo
21. Foolin Myself
22. Stop Lyin Ft.Ka$Hflow
How To DOWNLOAD