Bo Deal - Good Side/Bad Side (Hosted By DJ Holiday & DJ MoonDawg)
Submitted by mfizzel on Tue, 01/11/2011 - 8:34pm.
Dirty South | Mixtape Torrents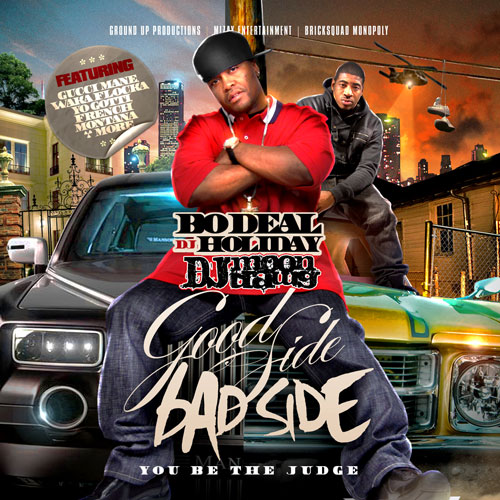 Via FSD: Mizay Entertainment's (Mama Flocka's label) Bo Deal drops off his latest project Good Side/Bad Side, in conjunction with DJ Holiday and MoonDawg. The project features Waka Flocka, Gucci Mane, Lex Luger, Wooh Da Kid, Yo Gotti, Alley Boy and French Montana.
You'll be able to catch Bo Deal on the upcoming Brick Squad Tour, which will be hitting select cities across the US in the coming months. Also, stay tuned for his joint mixtape with Waka that is set to drop in the near future as well. Make sure you get his good side.
01 Bo Deal Bo Speaks
02 Bo Deal Middle Of The Map (Prod By Track Surge)
03 Bo Deal Bag It Up (Prod By Donye)
04 Bo Deal Ft Waka Flocka Gun Clappin (Prod By Southside)
05 Bo Deal Ft Mecca & Bfn Corner Pocket (Prod By Alpharetta)
06 Bo Deal Ft Wooh Da Kid, Bfn & Kebo Gotti Ridin (Prod By Southside)
07 Bo Deal Million Dollar Man (Prod By Donye)
08 Bo Deal Ft Butta Da Prince Hello (Prod By Lil Keis)
09 Bo Deal Ft Paperboy & Cartier Wow (Prod By Southside)
10 Bo Deal What Up (Prod By Lex Luger)
11 Bo Deal Bo Speaks
12 Bo Deal Ft Gucci Mane Stone Cold Truth (Prod By Sound Master T)
13 Bo Deal What The Game Made (Prod By Paperboy)
14 Bo Deal Ft Yo Gotti & Alley Boy Ya Heard That (Prod By Pluke Beats)
15 Bo Deal Ft Mizay, French Montana, Cartier & Yg Hootie Faded (Prod By J'von)
16 Bo Deal Luv You More (Prod By Dj Speedy)
17 Bo Deal Ft Baby Doll Dreams
18 Bo Deal Ft Slim Dunkin Outta Mind
19 Bo Deal Sugar
20 Bo Deal Ft Andre Mccray Outta Them Clothes (Prod By Andre Mccray)
21 Bo Deal Ft Reese G I'm Tryin (Prod By Reese G)
How To DOWNLOAD