DJ Bijal - Best Of Aaliyah (More Than A Woman)
Submitted by romeo on Sun, 05/20/2007 - 6:34am.
R&B | Mixtape Torrents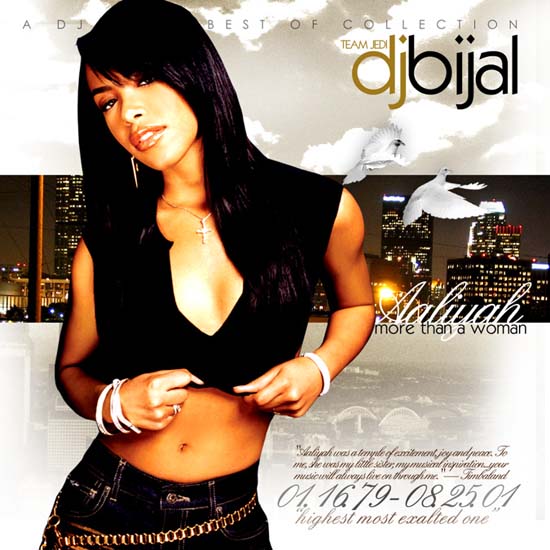 The Best of Aaliyah takes you on a trip thru the career of Aaliyah.
Creativly mixed with her hits and clips of herself & friends you
will relive the greatness that is Aaliyah.
01. [00:28] Aaliyah - DJ Bijal Intro
02. [00:48] Aaliyah - MTV News Intro
03. [01:58] Aaliyah - Gotcha Back
04. [01:04] Aaliyah - Giving You More
05. [00:35] Aaliyah - A Girl Like You
06. [02:23] Aaliyah - If Your Girl Only Knew
07. [00:06] Aaliyah - Extra Smooth
08. [02:05] Aaliyah - Loose Rap
09. [00:16] Aaliyah - Those Were The Days
10. [01:31] Aaliyah - Try Again
11. [01:30] Aaliyah - Are You Feelin Me
12. [02:02] Aaliyah - More Than A Woman
13. [02:42] Aaliyah - We Need A Resolution
14. [00:22] Aaliyah - Got To Give It Up
15. [02:01] Aaliyah - Back And Fourth
16. [00:24] Aaliyah - Missy Tribute Speech
17. [00:52] Aaliyah - All I Need
18. [01:42] Aaliyah - Im So Into You
19. [03:37] Aaliyah - Rock The Boat
20. [01:43] Aaliyah - Hot Like Fire
21. [01:16] Aaliyah - Come Back In One Piece
22. [01:08] Aaliyah - Are You That Somebody
23. [03:34] Aaliyah - At Your Best Remix
24. [06:17] Aaliyah - Choosey Lover
25. [04:19] Aaliyah - Never Givin Up
26. [03:06] Aaliyah - Come Over
27. [02:55] Aaliyah - 4 Page Letter
28. [01:53] Aaliyah - Age Aint Nuttin But A Number
29. [00:18] Aaliyah - Interlude [Everything Is Worth It]
30. [03:38] Aaliyah - I Care For You
31. [00:41] Aaliyah - Came To Give Love [Outro]
32. [02:38] Aaliyah - I Miss You Remix ft. Jay-Z [Bonus]
33. [02:04] Aaliyah - Where Could He Be [Bonus]
Playing Time.........: 01:01:54
Total Size...........: 227.39 MB
How To DOWNLOAD