Benzino and Mays Avoid Being Tossed From The Source
Submitted by mfizzel on Sat, 01/14/2006 - 4:46pm.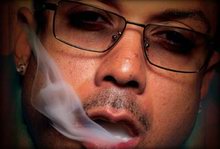 The Source Magazine founder David Mays and his partner/president Raymond "Benzino" Scott narrowly avoided being forced out by the magazine's new board of directors yesterday.
According to the New York Post, The Source board, now controlled by executives friendly to the Graves family that owns Black Enterprise magazine, attempted to boot Mays and Scott yesterday (January 12). However, the defiant execs both obtained a restraining order from a judge in New Jersey to temporarily block their dismissal.
Black Enterprise/Greenwich Street Corporate Growth Partners, a private investment firm started by the family of Black Enterprise Magazine founder Earl Graves, Sr. and his son, Earl "Butch Graves, Jr., the CEO of Black Enterprise Publications, gave The Source $12 million in return for a minority position and seats on the board of directors.
Last year The Source went into default on an $18 million loan by Textron Financial Partners, a lender that was introduced to Mays and Scott by the Black Enterprise executives. On Oct. 31, Textron asked the company to be placed into receivership as part of a lawsuit in Manhattan Supreme Court.
With the magazine in serious financial trouble the board of directors sought to seize control of the publication from Mays and Scott. As a result, the board had filed a suit stating, "The board has decided that this was the only feasible course of action as Mays and Scott could not continue their series of financial recklessness and negligence."
According to reports, the board of directors gave Mays and Scott 48 hours to appear at a special board meeting yesterday where the ouster was expected to be ratified.
"They can want to do that all they want, but it's not happening," Mays told the NY Post yesterday. Mays was also quoted as saying the whereabouts of his partner Scott were "top secret."
The board feels the continuation of Mays and Scott in their jobs "hurts not only the employees of The Source, but all of its investors, vendors, subscribers and readers."
David Finkler, a lawyer for Mays and Scott, told the NY Post that as far as his clients were concerned, "there is no new board."
Black Enterprise/Greenwich Street partners will abide by the temporary restraining ruling while working through legal channels to have the ruling tossed.
In related news, two Source executives, Alvin "Wiz" Childs and Leroy "Bum" Peebles are are due back in Manhattan Criminal Court on March 8, facing charges of attempted murder in the second degree. The two were arrested and charged with attempted murder after a shoot-out at the Limerick House left three people injured on July 22.
Reported by www.SOHH.com
How To DOWNLOAD