J.A. & Trae - On The Grind
Submitted by mfizzel on Mon, 08/14/2006 - 7:02pm.
Dirty South | J.A. | Mixtape Torrents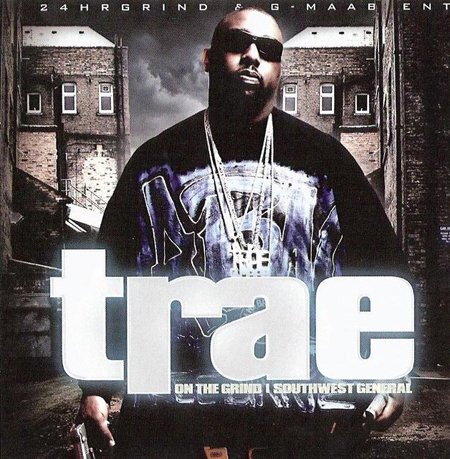 'Grind' is defined in the dictionary as follows: "To devote oneself to study or work." In his major
mixtape series On The Grind, producer J.A. promotes the hardest grinders in the game. This time he
takes you out to Houston's Trae.
The Rap-A-Lot/Guerilla Maab veteran and Southwest General puts in some serious work on this mixtape,
rapping over 25+ tracks, including a gang of new and exclusive records.
Also laying down a couple major freestyles, Trae ain't the only one making noise on this mixtape.
Look for cameos from Chingo Bling, Paul Wall, Yung Joc, Devin The Dude, Lil' Keke, Bun B, Lil'
Boss, Fat Pat and H.A.W.K.

1 - Trae - 24 HR. Grind
2 - White Bricks feat. Lil Boss
3 - Goin Down remix feat. Yung Joc
4 - In The Hood feat. Yung Joc
5 - Curiosity?
6 - Bring It On feat. Chingo Bling, Jayton, Dallas
7 - Cadillac feat. Paul Wall, Jayton, Lil Boss, 3 6 Mafia
8 - G Sh*t feat. Lil Boss
9 - Slow feat. Lil Boss
10 - G-Maab Ent.
11 - So Gangsta feat. Bun B
12 - Diamonds feat. ABN Family
13 - Screw Done Already Warned Me feat. Lil Keke
14 - Tomorrow
15 - Fake feat. Devin the Dude, Bun B
16 - Hustle Game
17 - SUC feat. H.A.W.K., 3-2
18 - Ease up feat. Lil Boss
19 - On The Grind
20 - Hustlin
21 - The Grind Is Sick!
22 - Oh No feat. Paul Wall & Chamillionaire
23 - S.L.A.B.
24 - Trae - 24 HR. Grind Outro
25 - Grands feat. Jayton, Lil Boss, Yung Joc
26 - Swang feat. H.A.W.K. & Fat Pat (Original) R.I.P. Jonathan and Patrick Hawkins
27 - The Realest feat. Tupac
28 - Storm the South
How To DOWNLOAD