Prosecution Rests In Gotti Brothers Trial
Submitted by mfizzel on Tue, 11/29/2005 - 11:46am.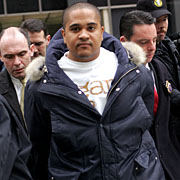 Defense to present case Tuesday; summations planned for Wednesday.
And on the fifth day in the federal money-laundering trial of Inc. heads Irv and Christopher Gotti, the government rested. But not before combing through page after page of carefully selected text-message exchanges between convicted crack dealer Kenneth "Supreme" McGriff and the Gotti brothers (real names Irving and Christopher Lorenzo) with New York Police Detective William Courtney — all within Judge Edward Korman's courtroom in Brooklyn on Monday afternoon (November 28).
Before Korman allowed the evidence, and away from the ears and eyes of the jury, both sides butted heads over the two-way transmissions. Defense attorney Gerald Shargel blasted the prosecution for drawing inappropriate inferences from the abbreviated text-message records provided by the Gottis' pager service. The company maintains transcripts of all text messages up to 80 characters, which means several of the messages read for the jury Monday afternoon weren't complete transmissions, but were short and often cut off in mid-sentence. It was also difficult — based on those records — to determine exactly who sent some of the messages or who they were intended for.
"The government's making assumptions," Shargel challenged, adding that some of the transmissions could be misconstrued even further because jurors — as opposed to listening to a recorded conversation — wouldn't be able to "tell inflection, so they won't be able to tell if these messages are jokes or not."
The frequent, intimate messages, according to prosecutor Carolyn Pokorny, lent added credence to the government's well-established position that the Gottis and Supreme were tight. In fact, with Courtney's assistance, Pokorny tallied up some of Supreme's travel expenses from 2002, and then connected more than $54,000 in trips the dealer had taken to Miami, Houston and Beverly Hills, California — as well as the hotel tabs associated with those trips — to Chris Gotti's American Express Business Platinum card. A number of the trips were financed by Universal Music Group, documents showed.
On cross-examination, Shargel attempted to fill in the gaps left by the prosecution's text-messaging review. He provided context to the messages for the jurors by introducing text messages that both preceded and followed the ones read aloud in court by Pokorny.
The prosecution then enumerated several cash deposits that were made to the Gottis' personal and business checking accounts during the course of seven months in 2000, totaling $82,000: $27,000 to Irv's, $33,000 to Chris' and $22,000 to the checking account for Chris' Murda Management.
The Gotti brothers are accused of cleaning more than $1 million in Supreme's drug-peddling profits via an elaborate check-for-cash scheme that involved various Inc.-related music and film endeavors.
After the prosecution rested, Shargel informed the judge he planned on recalling government witness Donnell Nichols, a former Inc. employee who previously testified to seeing Supreme deposit a bag of cash at Chris Gotti's desk. Shargel said new evidence surfaced last weekend that contradicts Nichols' testimony as well as his credibility. He also said he plans to use statements Internal Revenue Service agent Francis Mace made during his grand jury testimony — about moneys that were either owed to the Inc. by Supreme or vice versa — to attack the prosecution's case.
"This investigation was conducted on inaccurate information," Shargel said. "All the witnesses were obtained after [the Inc. offices were] searched. The government was on a mission to make this case they started and flubbed — to rescue this failed investigation that started with false statements. You will hear me use [the word speculation] over and over again in my summation."
The defense will present its case on Tuesday and should rest the same day, Shargel said. Summations are tentatively set for Wednesday.
Reported by www.MTV.com
How To DOWNLOAD