Plies & Rick Ross - Goon Music
Submitted by jlaudiosw7 on Wed, 01/30/2008 - 8:15pm.
Dirty South | Mixtape Torrents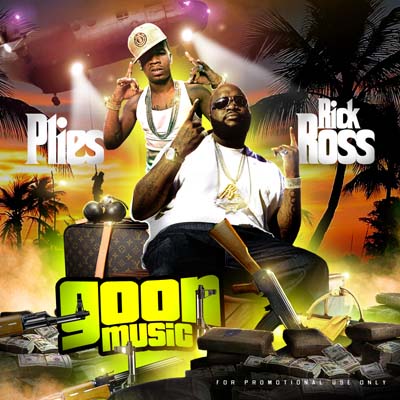 RICK ROSS "TRILLA" COMING MARCH 11
01. The Boss Is Back!!!
02. Speedin' Remix feat. Plies, Birdman, Busta Rhymes, Webbie, Gorilla
Zoe, Fat Joe, Flo-Rida, Brisco, Lil' Wayne & R. Kelly
03. The Boss feat. T-Pain
04. Trilla feat. Dre
05. Street Money feat. Flo-Rida
06. Hundred Million Dollars feat. Birdman, Lil' Wayne, Young Jeezy & Dre
07. Get Love
08. Money Make Me Cum
09. Rollin' feat. Joe Hound & Dre
10. Drought feat. Lil' Jon & Mannie Fresh
11. Down In The Dirty feat. Ludacris & Bun B
12. Umma Do Me Remix feat. Rocko, Young Jeezy & T.I.
PLIES "DEFINITION OF REAL" COMING SOON
13. They Know Remix feat. Shawty Lo, Ludacris, Young Jeezy & Lil' Wayne
14. Watch My Shoes Remix feat. 3 Deep, Mannie Fresh & Webbie
15. Me Love Remix feat. Sean Kingston
16. I Am The Club
17. Hypnotized feat. Akon
18. Bed Remix feat. J. Holiday
19. Can't Help But Wait Remix feat. Trey Songz
20. Bust It Baby [New Single Off "Definition of Real"]
21. The Real Testament!!!
How To DOWNLOAD