B.G. - Play It How It Go #5
Submitted by mfizzel on Fri, 09/22/2006 - 12:59pm.
Dirty South | Mixtape Torrents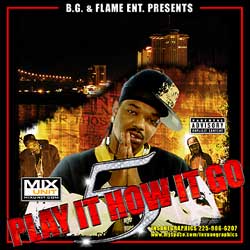 One of the N.O.'s hometown favorites, B. Gizzle aka. B.G., is joined by his Chopper City family
on this latest edition of the Play It How We Go mixtape series.
Growing up in the 13th Ward of New Orleans (an area decimated by Katrina), B.G., Cash Money and
The Hot Boys rose to dominance in and out of The Nolia. For better or for worse, B.G. helped
coin the term "Bling Bling" (on Chopper City In The Ghetto in 1997). Eventually flying solo,
B.G. has continued to feed the streets with heat.
This underground CD features B.G. & The Chopper City Boys, plus new Redman, Slim Thug & D-Block,
UTP, Jim Jones, Hakizzle, C Murder, Chyna Whyte, Webbie, Twisted Black and more.

1 - Redman – Freestyle
2 - DBlock feat. Slim Thug – Like This
3 - BG, TC, Maal – Freestyle
4 - Jim Jones – Freestyle
5 - Roach feat. B.G. – Like This
6 - Ghetto Commission – Step Aside
7 - B.G. – Out Here
8 - Hakizzle – Freestyle
9 - Lac (UTP) – Freestyle
10 - Chopper City Boys feat. Chopper – Ho's
11 - Chyna White – I Got It
12 - Malc feat. TC – Fuck Around
13 - Webbie and Block Boyz – Work
14 - M. Blaze – Wtz Up
15 - Jim Jones – Freestyle
16 - B.G. – Right Na (Remix)
17 - C Murder – Freestyle
18 - M. Blaze and TC – Lights Out
19 - Twisted Black and B.G. – Hustler
How To DOWNLOAD